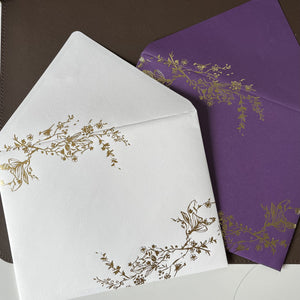 Foil stamping service for the outer envelope of secret garden suite. Price is flxed for the whole project.
This is for the foil stamping fee only, does not include the actual envelopes. This can only be ordered if client is also availing of the foil stamp - blind stamp mix printing of the secret garden suite.
If also availing of printed envelope addressing, addressing list must be sent immediately, as we can only foil stamp and assemble the envelopes after the names have been printed. 1.5-2 wks lead time after the names are sent.