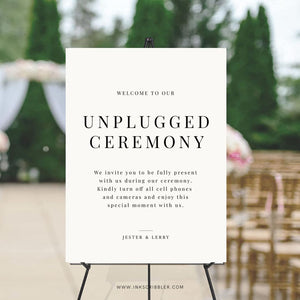 Signage for your events. Ideally to be displayed on an easel stand.
welcome signage
find your seat
cocktail / drinks menu
Design + 1 revision and printing included.
For big size boards, size may vary depending on the design.
Consult with your stylist / florist / coordinator on how to display this. Let us know from the beginning if you need holes for hanging (top corners? All corners?)
Calligraphy of names not included. If you ordered invitations from us, we will use the same file as the invitations.